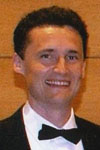 Dr. John Seery PhD MRCP
John Seery is a Consultant Physician at St. Vincent's Hospital and a Lecturer at the School of Medicine and Medical Science, University College Dublin, Ireland. John studied medicine at Cambridge. A natural sciences graduate of Trinity College Dublin, he has a PhD in Cell Biology from University College, London.
John is also an avid footballer, and manages St Vincent's Hospital F.C. of the Leinster Senior League.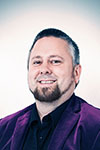 Dr. John Ryan PhD MSc BSc(Hons)
John Ryan has previously been a Course Director/Senior Lecturer at the University of Sydney and a lecturer at UCD Dublin. John's PhD was in software reconstruction of electrocardiographic data. Much of his research involves the application of computer science technologies to the fields of medicine and science.
John is also a musician and is the folk-instrumentalist for a heavy-metal band called Cruachan.